We provide the Property Inspection Tour,
in order for you to select a better property with peace of mind and well understanding after efficiently checking the location, surrounding environment and the potential of the property on site in person.

Point of join to our Inspection Tour
Efficient inspection!
Inspect potential properties efficiently by chartered car, it makes easy to find a good one!
Available in English!
You can consult with a professional Realtor plenty after the visit. Ask any questions directly to sign the contract with fully satisfied.
Spacious schedule for your contemplations!
One night hotel accommodations and a lunch included!
Enjoy local food recommendations!
Next Tour Schedule

* Limited to two groups per tour, with a maximum of two people per group.
* Please note that we may not be able to accommodate your request if there are too many applicants.
Example of the Itinerary of our Inspection Tour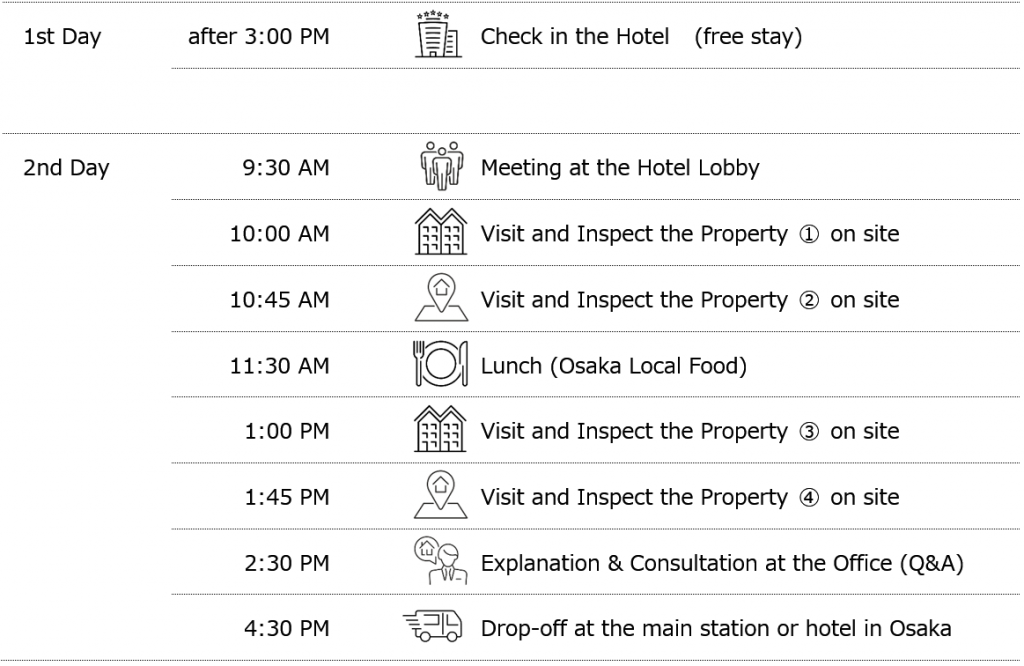 * We are unable to show the inside of properties that are currently leased. Please note that the inspection may be conducted from the outside of the building.
* The tour schedule, order, and time may vary depending on the tour, as the properties to be inspected differ for each event.
* Please let us know if you do not need to stay at our hotel for the first night. Please be punctual for the meeting.